Information pulled from the Department of energy website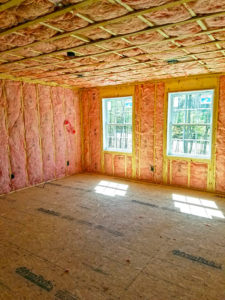 Fiberglass (or fiber glass), which consists of extremely fine glass fibers, is one of the most ubiquitous insulation materials. It's commonly used in two different types of insulation: blanket (batts and rolls) and loose-fill and is also available as rigid boards and duct insulation.
Manufacturers now produce medium- and high-density fiberglass batt insulation products that have slightly higher R-values than the standard batts. The denser products are intended for insulating areas with limited cavity space, such as cathedral ceilings.
High-density fiberglass batts for a 2 by 4 inch (51 by 102 millimeter [mm]) stud-framed wall has an R-15 value, compared to R-11 for "low density" types. A medium-density batt offers R-13 for the same space. High-density batts for a 2 by 6 inch (51 by 152 mm) frame wall offer R-21, and high-density batts for an 8.5-inch (216-mm) spaces yield about an R-30 value. R-38 batts for 12-inch (304-mm) spaces are also available.
One unconventional fibrous insulation product combines two types of glass, which are fused together. As the two materials cool during manufacturing, they form random curls of material. This material may be less irritating and possibly safer to work with. It also requires no chemical binder to hold the batts together, and even comes in a perforated plastic sleeve to assist in handling.
Fiberglass loose-fill insulation is made from molten glass that is spun or blown into fibers. Most manufacturers use 20% to 30% recycled glass content. Loose-fill insulation must be applied using an insulation-blowing machine in either open-blow applications (such as attic spaces) or closed-cavity applications (such as those found inside walls or covered attic floors). Learn more about where to insulate.
One variation of fiberglass loose-fill insulation is the Blow-In-Blanket System® (BIBS). BIBS is blown in dry, and tests have shown that walls insulated with a BIBS system are significantly better filled than those insulated using other forms of fiberglass insulation such as batts.
The newer BIBS HP is an economical hybrid system that combines BIBS with spray polyurethane foam.
Learn more at the Department of energy